Is Zero Carbon Really Achievable?
22-April-2022
22-April-2022 17:27
in General
by Admin
Is Zero Carbon Really Achievable?
Let's start with important changes to the Building Regulations. The new Building Regulations comprise five new Approved Documents, including uplifts to Part L (fuel and power) and Part F (ventilation), which will come into effect from 15 June 2022. The new regulations are incorporating improved carbon factor for electricity of 55% and 3% gas as below: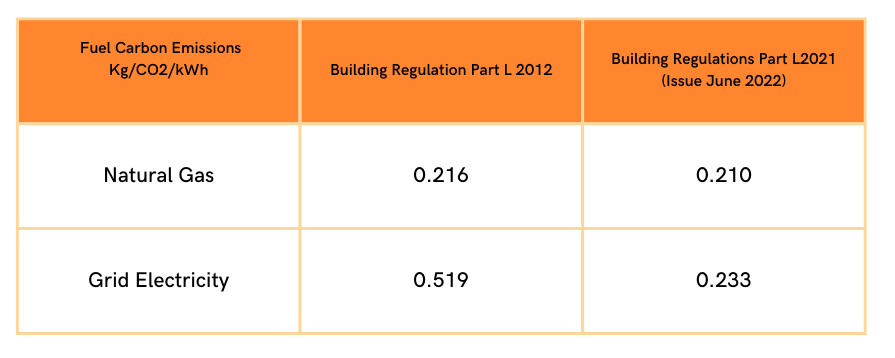 That's a half the carbon emissions using electricity than was set in 2012. And really what has changed? Have we really lost our coal power stations in favour of cleaner fuel sources to the tune of a 50% reduction in CO2? What of the down-stream emissions? Is this a ploy to fudge the numbers by the Government to appear to be more 'carbon neutral' by set target dates?
We believe it is important to focus on the overall picture. This relates to cost, Regulatory obligation, and each individual's moral obligation to do the right thing. One thing is for certain, electricity and gas prices have gone up ridiculously, and this has a significant impact on direct and indirect costs which hit our pockets which is impactful most to us as individuals.
Being conscience of our energy expenditure will benefit us twofold, we will not just save money, but we will reduce carbon.
All of those quick wins such as reducing usage, not leaving things plugged in and converting to LED will start to pay dividends. On a larger scale when using the above using low or zero carbon initiatives will be all the more beneficial.
So what do we do in getting to Zero Carbon?
Zero Carbon means no associated full to run buildings. How viable is this for buildings already in existence with thousands of occupants?
Our approach is by modelling the building using dynamic thermal modelling. We discussed this in a previous blog when discussing the EPC requirement. That's where the Regulatory compliance comes in. We believe it is important not to hit clients with heavy costs for reporting they may never need, but to charge the right sum for a service that 100% is required by Law. The production of the model and associated EPC for the building will produce what we call a baseline EPC. What is produced today vs what is produced after the 15 June 2022 deadline should in principle be the same / or similar EPC rating as the software will need to take into account what is called the notional building (which is an average building for its type sitting between a EPC rating of D and E). Automatically, we expect that when the software is updated after this date, that the baseline CO2 for a building will be lower.
Once we have the baseline, we can model tangible initiatives that we can predict the cost for, such as; LED lighting upgrades, air source heat pumps, variable speed drives or solar panels. Of these, the combination often has the ability to bring a building to a theoretical zero carbon position. We can also model other technologies such as wind turbines, ground source heat pumps and CHP, whichever is most viable.
As a Chartered Engineer and Low Carbon Consultants I read several articles such as those published in Property Weekly with incorrect advice from those who don't deal with these solutions on a daily basis and therefore are not best placed to advise on this. Indeed, we are. We can deal with your query with the necessary urgency, and give the correct advice for the right cost. Our 'bag of tricks' comes purely from a compliance stand-point where we are certified to undertake EPCs, ESOS, TM44, DECs and other energy related compliance services.
To find out more about your building's carbon position and your building's baseline, and how you can journey to Zero Carbon, please do not hesitate to contact our team on… and we will take the time to outline this process specifically tailored to your requirements. Email us at info@karsonsconsulting.com or call us on 020 3282 7605.